Used Hydraulic Gantry Crane Buying & Selling Information
(by the way, all brands and model names are trademarked or copyright to their respective companies…we gotta say this of course)
– We Buy & Sell Them 616-200-4308 –
Hydraulic gantry systems break down into two categories:
Open cylinder non locking – Open cylinder versions are used by both current model hydraulic gantries and older versions.
Locking gantries type – Locking type offer the added safety of locking sleeves around the hydraulic cylinders.  They are also called boom gantries. The boom around the cylinder also may offer substantial benefits against sway issues. Different companies use different locking technologies.  While this type is typically the most desirable, we have seen companies use both types with great success.  Expect to pay more for locking type.
Another consideration is whether the legs (or jacks) are self propelled.  In other words, some older models had to have the legs pushed or pulled to move.  This can be pretty tricky, if not dangerous, if being pulled with something like a forklift.   One of the risks is, not moving all the legs evenly or herky-jerky movements.
To Buy Used or New Is The Question (or rent)
The reality of it is; new gantry systems are very expensive (and so are the lifting beams and runway).  If you have a desire for a new locking gantry, be prepared for some sticker shock.  New, one could easily spend $400,000 to $500,000+ for a bigger set.  Because of this, used gantry systems have become a popular option.  Often times, gantry systems aren't in full time use, but a company needs them in their "toolbox", so to speak.  The high cost of new makes buying a used system much more appealing.  Making monthly payments on a new set can chew into your monthly bottom line compared to a used set.
The trick is finding a used system.  We happen to have a network of over 600 rigging companies around the world.  This makes it much easier for us to locate used machines.
Another option is renting.  We do rent hydraulic gantry systems and this can make sense for short term use.  If you plan on long term or frequent use, then you might be financially ahead to simply buy a used set.
Lift Heights
Lift heights will vary by manufacture, model and year of manufacture.  Dead sections can also be added to some gantries for more height.  Basically, it's a non moving section that sits on top off each jack.  Of course, some will also place blocking under the jack or runway to raise the system.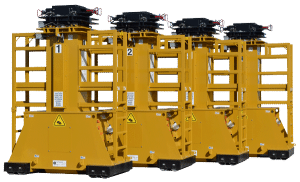 Lift Systems Hydraulic Gantries
Current Power Tower Gantries (Locking Type) come in:
500 Ton (2 Stage)
800 Ton (2 Stage)
500/400 Ton (3 Stage)
500 Ton (3 Stage)
650/550 Ton (3 Stage)
850/525 Ton (3 Stage)
1000/600 Ton (3 Stage)
1400/890 Ton (3 Stage)
Current Bare Cylinder Systems
80/160 Ton
100/200 Ton
120/240 Ton
200/400 Ton
400/800 Ton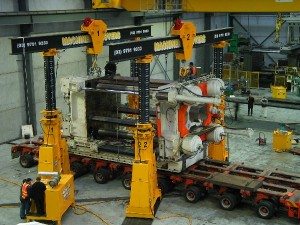 J&R Engineering Hydraulic Lift-N-Lock Gantries
J&R Gantry Systems have a rotated square boom (if I recall some models weren't rotated). They range from US 75 Tons to1,800 Tons with four lift housings from 18′ to 100′ heights.  There locking system is a cam type.
Features:
Double Acting Cylinders
Oscillating/Rotating header plates
Steel Hydraulic lines
Integral Self Propel w/ customized wheels
Integral Lock Valves
Pressure compensated Controls
Two speed load sensing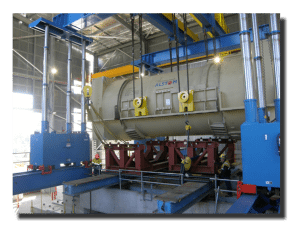 Riggers Manufacturing EZ Lifter
Riggers EZ Lifter has a different configuration than most others.  They offer 4 hydraulic cylinders per leg.  According to Riggers, only 3 cylinders are capable of supporting the load in case of a cylinder failure.  Their units are also powered electrically.  This can be an advantage in areas where fumes are undesirable.  They are self propelled for up to 4 legs.
Tonnage Range: 200 Tons to 600 Tons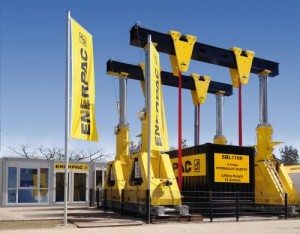 Enerpac Gantry Systems (Enerpac bought Hydrospex)
Enerpac gantries are boom type and open cylinder.  Their boom types are unique because; the jack portion rotates to fold down for shipping, hexagon type boom, each leg has self contained hydraulics and electrics.  The disadvantage to self contained legs can be that they are heavier per leg.
Enerpac gantries are European and aren't as popular in the Americas as the other brands.  Used versions, at the time of this writing, are fewer and far between.